03/Dec/2015 // 448 Viewers
Defeating Islamic State won't be possible without finding troops to fight on the ground, U.S. Secretary of State John Kerry said, calling for a political transition in Syria that would enable "all nations" to fight the group together.
The U.S. and Russia are at odds over how to fight Islamic State, with the U.S. insisting on the ouster of Syrian President Bashar al-Assad and Russia launching a military campaign to defeat his opponents. With Russian Foreign Minister Sergei Lavrov and other foreign ministers from Organization for Security and Cooperation in Europe countries looking on, Kerry said a "political transition" in Syria was necessary to bring more countries into the conflict.
"If we get political transition in place, we empower every nation and every entity to come together, the Syrian army together with the opposition, together with all the surrounding countries, together with Russia, with the U.S. and others to go and fight Daesh," Kerry, using an Arabic acronym for Islamic State, said in Belgrade. "Just imagine how quickly can the scourge be eliminated, in a matter of literally months, if we are able to secure that kind of political resolution."
Kerry's call for a political transition coincides with the stepped-up offensive against Islamic State following the terrorist attacks in France last month that killed 130 people. French, Russian and U.S. warplanes have intensified their bombing of militant targets, and British jets expanded their attacks against the group to Syria overnight. On Tuesday, Germany also committed more forces to the fight.
U.S. Special Forces
President Barack Obama, who has repeatedly said the U.S. wouldn't commit large-scale ground troops to fight Islamic State, has authorized dozens of special operations forces to conduct missions in Iraq and Syria. The Defense Department said this week that about 200 U.S. personnel will be deployed to Iraq to conduct specialized operations in Iraq and Syria.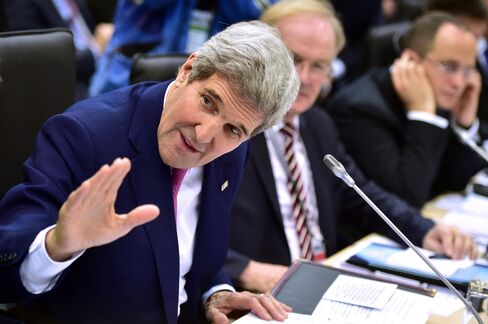 John Kerry in Belgrade
Calling U.S. special forces "the best in the world," Obama said his moves to deploy them in growing numbers doesn't violate his pledge against putting American boots on the ground to lead the fight against Islamic State.
"We're not going to do an Iraq-style invasion of Iraq or Syria with battalions that are moving across the desert," he said in an interview that aired Thursday on CBS Morning News.
U.S. special forces can "give us greater situational awareness on the ground, generate additional intelligence, work with local forces to develop smarter strategies, help direct where air strikes are going to make the most difference," he said.
Assad Dispute
The dispute over how to proceed was complicated last month when North Atlantic Treaty Organization member Turkey shot down a Russian warplane. On Thursday, Russian President Vladimir Putin threatened to step up sanctions imposed against Turkey after the incident. Russia has refused to agree that Assad must step down, and Lavrov said any negotiations must include his government.
"The negotiating situation should be between the Syrian delegation and patriotic opposition which rejects violence and extremism," Lavrov said in Belgrade. "We need a broad anti-terrorist front with the participation of all OSCE states and the Middle Eastern countries to ensure the military defeat of Islamic State."
Kerry said his country is determined to defeat Islamic State, and Lavrov said destroying its goal of an Islamist Caliphate in Syria and Iraq was a priority. Kerry said Islamic State can't be defeated by bombing alone.
"Without the ability to find some ground forces that are prepared to take on Daesh, this will not be completed from the air, and we know that," he said.
Bloomberg Business